Turkey Loaf With Balsmic Honey Mustard
Derf2440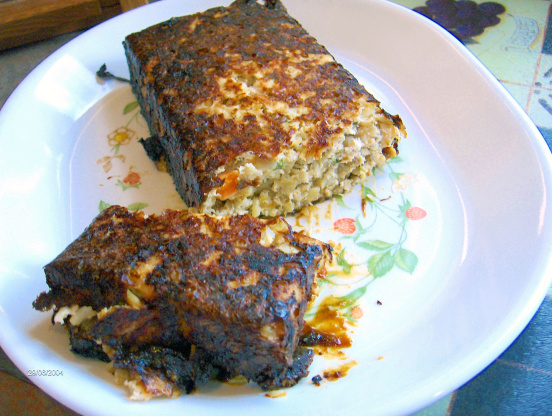 Sage flavored ground turkey cooked with a sauce made from balsamic vinegar, honey and Dijon mustard.

I made this turkey loaf (I used ground Chicken)for dinner tonight. We were quite pleasantly surprized, it was good. It had a good taste and kept together enough to be sliced. We found the glaze much too sweet for us and if I were to make it again I would use only one tablespoon of honey. Also found the honey, balsamic vinegar and mustard, caused the outside of the loaf to be quite dark, to almost look burned. It did burn around the edges of the pan and made it a little difficult to get on to the platter, had to piece a couple of corners together. The timing might be slightly off, I left it in for the prescribed time; I think another time I would take it out about 10 minutes earlier. All and all, it was good and will make good sandwiches for lunch tomorrow, thanks for sharing and good luck!!
Preheat oven to 350°F.
Place rice, onion, egg, milk, sage, bouillon granules and pepper in a bowl, stir to combine.
Add turkey and mix with your hands.
Place mixture in a a loaf pan.
Combine honey, vinegar and mustard.
Spoon 1/2 the honey mixture over the turkey and bake 30 minutes.
Spoon the remaining honey mixture over the turkey and bake 20-30 minutes or until done.
Let sit 5-10 minutes before slicing.