Hanka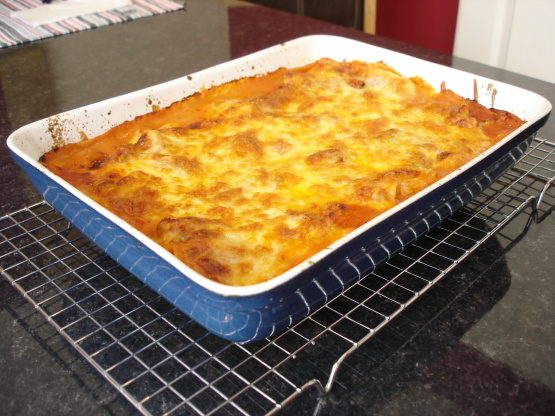 This is my own recipe. Instead of ricotta cheese I make white sauce from cream of chicken soup. It takes only 10 minutes to put together. What I like about this dish is that you can make it ahead a time, keep it in fridge and bake it latter.

Top Review by xtine
This was very good. It's not a traditional lasagna - the white sauce and the cheddar cheese make for a nice change of pace. It was very easy and quick to make. I used 1 pound of lean ground turkey, and for the tomato sauce I used a 26oz jar of Classico brand pasta sauce, tomato & basil flavor, and 8oz of tomato sauce. Made for PAC Fall 2007
Preheat oven to 375°F.
Heat the oil in large heavy pan add ground turkey, salt, pepper and and cook on high heat until no longer pink.
Add tomato sauce, stir well and let it simmer for 5 minutes.
In a medium bowl empty cans cream of chicken soup add water and stir.
In 9x13x2-inch baking pan, spread 1/3 of tomato sauce on top 1/3 white sauce and 4 sheets uncooked lasagna noodles. Then alternate layers of tomato sauce, white sauce, lasagna ending with tomato and white sauce.
Sprinkle cheese on top.
Cover with aluminum foil and bake 30 minutes than uncover and bake 15 minutes until lightly browned and bubbling.
Allow to stand for 20 minutes before cutting.
If you like your lasagna more firm serve it next day. Tastes even better.