Turkey Italian Sausage & Greens Soup
PaulaG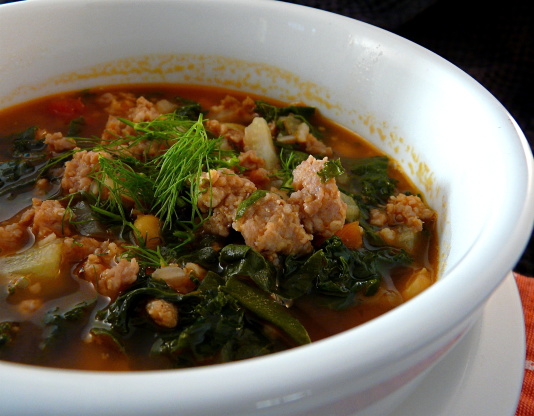 This is a low calorie soup with a lot of greens and veggies. It's a bit spicy from the sausage, but you can substitute plain ground turkey for the sausage. This recipe changes every time I make it - I put a lot of leftovers into the pot, but it always turns out delicious. Serve a big bowl with focaccia bread as a meal, as a starter, or as a quick lunch. This soup freezes and reheats well.
Top Review by PaulaG
This soup is packed with lots of good veggies. I did change up the cooking method a bit. The sausage was browned in the pan along with a touch of chicken stock. The sausage was very lean and didn't really produce enough fat to cook it properly. Next the carrots were diced and mushrooms quartered. They were added into the meat along with the chopped onion, fennel and a couple cloves of minced garlic. They were cooked for a few minutes to caramelize a bit then the chicken stock was added along with the canned tomatoes. The greens were added the last few minutes and were cooked just till they were bright green and wilted. After adding in the chard and kale I thought the soup was loaded with greens and the spinach was omitted. This is a nice comforting soup. Made for PAC Fall 2011.
-Brown ground meat in large sauce pot (6 quart with a lid).
-Turn heat to low and layer the following vegetables on top of meat according to cooking time: carrots, onions, fennel, kale, chard, mushrooms.
-Place the lid on the pan and allow vegetables to steam for about 20 minutes; then, fill up the pot with enough broth to completely cover the vegetables, you can add tomatoes at this time.
-Cook until the carrots and fennel are tender, then add rinsed and drained garbanzo beans.
-Place the fresh spinach in the bottom of your serving bowl and spoon the soup on top. The spinach should stay green and be simply wilted. This gives the soup a fresher taste.