Turkey Hill Ice Cream Cake
Kats Mom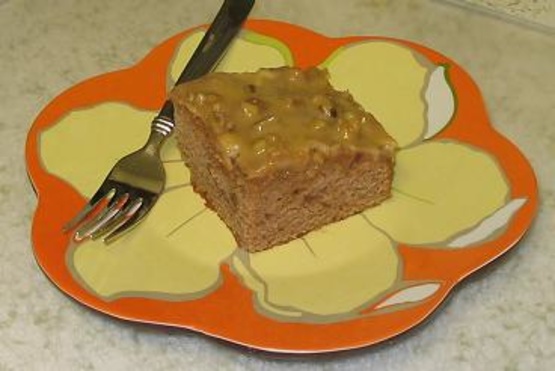 This recipe is unusual because the ice cream is an ingredient in the cake batter. When we lived in the Valley Forge area of Pennsylvania, there was a dairy, called Turkey Hill, that made the *best* ice cream. Though I live far from there now, I'm still on their mailing list and just received their 2007 calendar which has one recipe for each month. January's cake sounds rich and positively scrumptious! I am sure you could use your favorite brand & flavor if you are not blessed with a Turkey Hill store on the corner. It doesn't say, but I would think you would want to keep any leftovers refrigerated. 12/29/2006 - This turned out to be a rich cake with a delightful topping that is not overly sweet. The possibilities are endless if you vary the flavor of ice cream and ice cream topping (think butter pecan w/butterscotch, chocolate w/fudge, etc.).
Preheat oven to 350 degrees.
Grease the bottom of a 13" x 9" pan.
Heat butter until melted and then remove from heat.
Add ice cream, eggs, flour, sugar, baking powder, salt, heavy cream and canola oil then beat until smooth.
Pour into prepared pan and bake for 30-35 minutes.
Combine nuts, topping and sour cream then pour over warm cake.