Turkey Everyone Raves About
diner524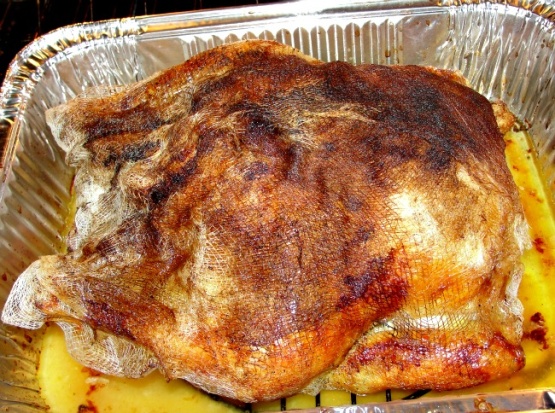 I've adopted this recipe through Martha Stewart and made it my own. Everyone in the family is at my house on 'turkey' holidays because of this recipe. Even if you've never cooked a turkey before, this will amaze! Of course a recipe is only a guideline so feel free to add or subtract ingredients due to personal taste. I'll add the amazing stuffing recipe that goes with this before American Thanksgiving..or Christmas (depends on my available time). For those that don't cook a lot of turkey (and I do it on a weeknight for something to do), always check your turkey size and cook accordingly, whether stuffed or not. This my friends is a crowd pleaser. Be careful to only serve it to those you want to have over for dinner when a turkey is involved! Use any wine that you would drink is the best advice I can give...makes all the difference in the world. It may seem like a lot of work but it inst--I've done this on a Tuesday just for something to do. It's the best comfort food there is. I don't know the size of the cheesecloth packages so that's an estimate. You can usually get the cheesecloth and the packaged 'poultry blend herbs' at your local grocery. If you cant, email me and I'll give you the herbs you need. ENJOY! Try it this holiday season and tell me it's not the best!
Delicious!!! I did make a few changes, as it was just DH and I for dinner. I used a 5+ lb roaster chicken and didn't actually weight the cheesecloth, just cut it to cover the chicken and then again for the herbs. Not sure if this was a typo, but thinking so, I feel 8 sticks of butter (2 lbs) is way too much, even though I just love butter, for a 15 lb turkey. I used less then 1 stick, about 6-7 tablespoons, some to rub over the skin and the rest in with the herbs and wine used for basting, which was perfect for my smaller chicken, but would probably cut back a little on that amount next time. I used fresh thyme and sage for my herbs, chardonnay wine (one mini bottle from a 4 pack) and put a couple of chunks of onion and fresh lemon in the cavity. End result was just fantastic!!! Definitely will be doing this for our next roasted chicken or turkey!!! I posted 3 photos, just of the pre and post cooking of the bird, as Corilayn has an awesome photo of the finished turkey!! Thanks for another great recipe!!! Made for Spring 2013 PAC!!
Obviously defrost turkey and remove giblets.
Preheat oven to 325°F.
Take half of 1lb of butter and allow to come to room temperature.
Rub rinsed and patted dry turkey with room temperature butter.
Sprinkle with salt and pepper.
Take one package of cheesecloth, open it up and fold it in a way that will cover the entire turkey.(Use the whole cheesecloth for this).
Place cheesecloth over entire turkey.
Wrap/bundle fresh poultry seasoning herbs in cheesecloth (whatever you need to use,you can cut to size) and tie to secure. This makes for easier removal.
Place the rest of the butter,wine and wrapped herbs in a pot on the stove.
Heat till melted and fragrant.
Baste entire turkey with butter, wine, herb mixture over the cheesecloth.
Baste turkey every 20 minutes from pot with wine, butter, herb mixture until till recommended cooking time is up.
If you run out of the mixture in the pot, use what is in the roasting pan.
Every time you baste, rotate the turkey, left to right.
At the end of cooking, baste, remove cheesecloth and let rest for 10 minutes.
BTW~ cheesecloth may look "burnt" do not worry -- the turkey won't be -- DO NOT COVER WHILE COOKING.