Susie D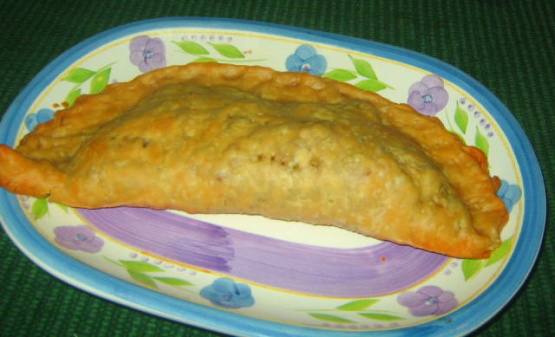 This recipe makes two large empanadas. Be careful when placing the meat on the pie crust, it tends to make the dough soggy and tears easy.

These were easy to make & very filling. Served with a salad the wedges made a nice meal. I had no problems with sogginess, but I did cook the filling until dry. The spices blend nicely and carry thru. ( I did use fresh cilantro & garlic.) I also crimped the edges & skipped the egg white. Thank you for sharing your recipe!
In a large skillet over medium-high heat, saute turkey, garlic, onion, and green pepper until turkey is no longer pink in center. Stir in parsley, cilantro, cumin, oregano, red pepper flakes, and black pepper. Stirring occasionally, cook over medium heat about 15 minutes or until most the liquid is reduced.
Preheat oven to 400 degrees F (200 degrees C).
Spray cookie sheet with non-stick oil. Unfold one pie crust on one side of cookie sheet. Carefully spread one half of meat mixture to within 1-inch of one-half pie crust. Brush 1 inch of pie crust with egg white. Encase meat by folding other half of pie crust over meat mixture. Using a fork, press edges of crust together and pierce top of crust to make holes to allow steam to escape.
Repeat steps with remaining ingredients and pie crust on other side of cookie sheet.
Bake at 400 degrees F. 20 to 25 minutes. To serve, cut each empanada into 3 wedges.