Turkey Drumsticks in the Crock Pot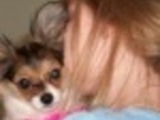 The grocery here often has fresh turkey legs and they're very inexpensive. I make this recipe using 4 or 6, however many happen to be in the package. I then take the meat off the bone and use it in recipes that call for cooked chicken or turkey.
4 -6 turkey legs
1 (1 1/4 ounce) envelope dry onion soup mix
1⁄4 cup water
Directions
Place turkey legs in Crock pot. Sprinkle with onion soup mix. Add 1/4 cup water.
Cook on low 9-10 hours until done.
Juice can be thickened with flour or cornstarch for gravy.
Most Helpful
First off, don't cook as long as recipe calls for, the turkey will be dried out. I wish I'd cooked it about 5 hours as I tasted it at that point & it was moist & lovely, falling off the bone but by the time my honey got home (about 7 hours cook time) it was dried out & not very good. I did use cooking sherry instead of water & the flavor at first tasting was lovely, would have been wonderful had I served it after 5 hours on low so I'll give it 4 stars & remember to cook it 4 or 5 hours next time.
Very tasty and EASY. I used 3 drumsticks, 1/2pkg onion soup mix, sliced onion and can of mushrooms, cooked on high 3 1/2 hr, thickened the juice and served over pasta. My husband says this is a keeper.
This was delicious, with the juicy, flavorful meat falling right off the bone. I used six legs with skin removed. I used Recipe #223023, and substituted 1/4 cup white wine for the water. It was a hit with my family! This is also definitely a very simple way to prepare cooked chicken or turkey for other recipes that call for it.