Turkey Dinner in the Slow Cooker
Sageca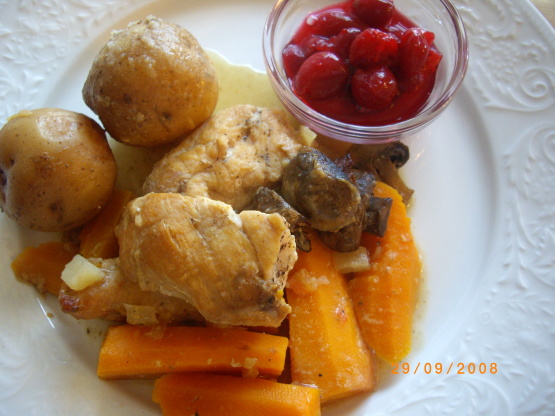 This recipe is one from The Fall cookbook Swap;one of the books Sydney Mike sent me I bought some Turkey Breast Fillets from M&M but you can make this recipe with boneless turkey or chicken breast. A one pot meal so handy to have ready when you come home.I always have a jar of this mixture in my pantry that I use instead of soup. Homemade Cream of Style Soup Mix - Substitute
In 4 quart slow cooker place onions, carrots, mushrooms and potatoes.
Sprinkle with onion soup powder.
Meanwhile cut turkey or chicken in large chunks;sprinkle with poultry seasoning.
Spray skillet with Pam; when hot, brown poultry a few minutes.
Place on top of vegetables. add salt and pepper.
Cover with soup mixture.
Cook on Low for 7 hours.