Turkey Cutlets with Tomato-Olive Relish
JustJanS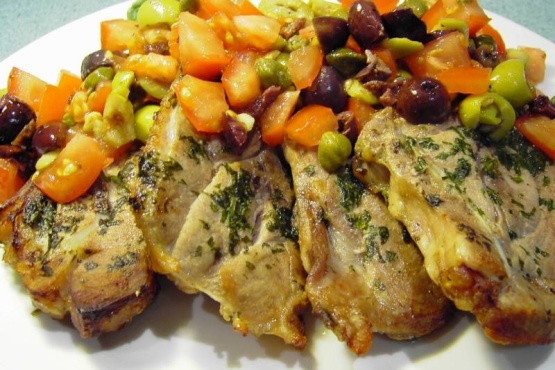 This is a recipe I found in a magazine about 20 years ago. It was 'misplaced' for years and I just found it. I remember this being a delicious dish, perfect for summertime.

I'm giving the delicious relish the 5 stars-the turkey was a bit average. No fault of yours though, turkey is not common in Australia, and not done well by the supermarket. Also it's winter here, and we cooked this under the broiler rather than BBQing it. I have to say the flavour of the turkey was outstanding, (loved the basil on it), but just a bit chewy. I think that the relish will turn up often here on more than turkey. I can't wait to eat it again!
Prepare outdoor grill for barbecuing.
With a meat mallet, pound each turkey cutlet to 1/4-inch thickness; rub cutlets with 1 tsp salt and set aside.
Prepare tomato-olive relish: chop tomatoes and olives; place in a bowl; stir in capers, vinegar, sugar, 1 tablespoon olive or salad oil, and 1/2 teaspoon salt.
In a small bowl, mix minced basil and 1/4 cup olive or salad oil.
Place cutlets on grill over medium heat; brush with oil mixture; cook 5 minutes or until lightly browned and tender, turning cutlets occasionally and brushing with oil mixture, cook until no longer pink inside.
Place turkey cutlets on platter; top with tomato-olive relish and garnish with basil leaves.