Turkey Cutlets With Tarragon and Wine
AlainaF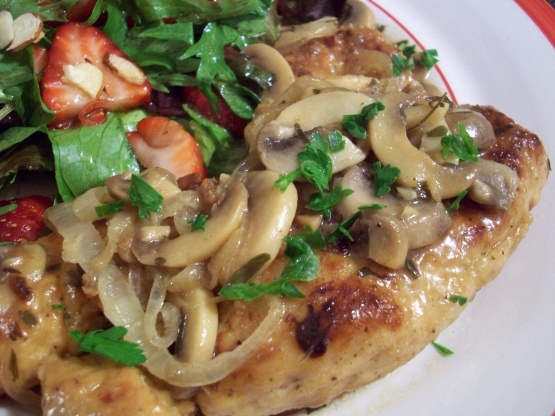 Great recipe for turkey breast cutlets. I really like tarragon, and the combination of mushrooms, garlic, wine, and lemon really make eating this turkey a delight!

Delicious and tastes very French! I couldn't find turkey cutlets at the store, so I had to slice the turkey, which came out thicker, and required a longer cooking time, but they came out great! Not my husbands favorite, but a nice dish to make to impress someone :) Made for PAC Fall 2011.
Saute the onion and garlic in the melted butter in a large skillet over medium heat, stirring constantly, until almost tender. Add mushrooms, and saute, stirring constantly, until tender. Remove the vegetables from the skillet with a slotted spoon, reserving the drippings in the skillet. Set the vegetables aside.
Combine flour, salt, and pepper; stir well. Dredge the turkey in the flour mixture. Add oil to the skillet. Brown the turkey in the drippings and oil 2 minutes on each side; sprinkle with tarragon just before turning. Pour the wind and lemon juice over the turkey.
Add the reserved vegetable mixture, and simmer, uncovered, for 5 minutes or until turkey is done. Sprinkle with parsley and enjoy!