Turkey Cutlets With Prosciutto and Caper Sauce
BarbryT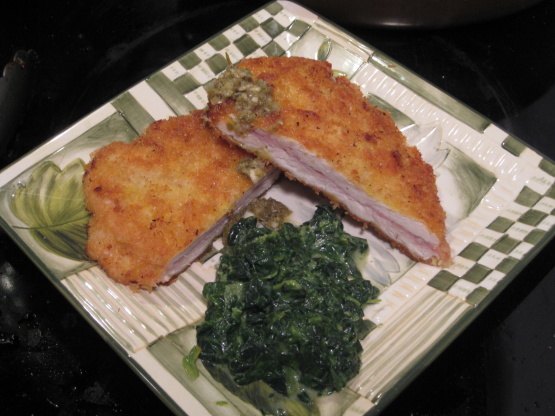 Source: Gourmet April 2008

Delicious! My prosciutto was so thin it didn't overpower the turkey at all (and I used two slices per "package"). It was crunchy and entirely nice with and without the capers. I used a mini food processor to chop and combine the capers and garlic, which I would not recommend; I should have hand-chopped because by the time the garlic was tiny, the capers were a little too processed. Served with creamed spinach.
Make sauce:.
Chop garlic and capers together.
Transfer to a bowl and stir in oil, vinegar, 1/4 teaspoon pepper, and a pinch of salt.
Prepare turkey:.
Drape a slice of prosciutto over each of 4 cutlets, covering them, then top with another cutlet (like a sandwich).
Put flour, eggs, and bread crumbs in separate shallow bowls, then stir 1/4 teaspoon each of salt and pepper into both flour and bread crumbs.
Dredge each cutlet "sandwich" in flour, then eggs, then bread crumbs, shaking off excess after each dip.
Transfer to a plate.
Heat oils in a 12-inch heavy skillet over medium heat until oil shimmers, then cook cutlet sandwiches 2 at a time, turning once, until golden and just cooked through, 4 to 6 minutes per batch.
Serve with caper sauce.