Turkey/ Cranberry/ Dressing Panini
PaulaG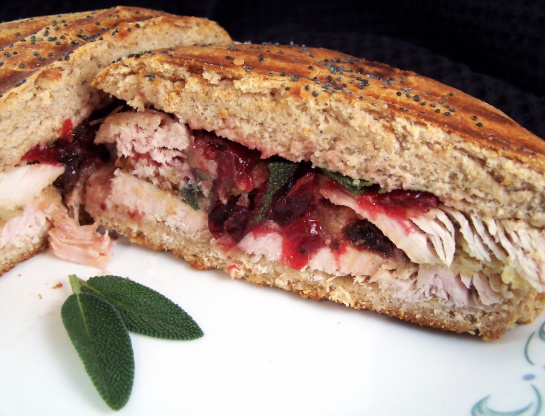 After the ball - when it is quiet again - and we would like another taste of the turkey - try one of these sandwiches! They are great, taken from NapaStyle Inc. & then tweaked. When I posted the recipe had to guess at quantites, so please adjust to your own palette.
Top Review by PaulaG
A delicious way to visit Thanksgiving dinner on a bun. I did not use all the butter that was called for. I just put a thin coating on the buns. I used recipe #139827 for the bun and the George Forman grill as a panini press. I was fortunate enough to have fresh sage.
Spread two slices of bread with thin layer of cold gravy.
Layer the sandwiches with slices of turkey, stuffing, more gravy and cranberry sauce, to taste.
Season with salt & pepper and top with chopped sage leaves.
Spread a thick layer of cranberry sauce on the other slices of bread.
Butter sides of the sandwich, on the outside; then toast on a preheated sandwich grill, a cast iron skillet or non-stick frying pan, pressing firmly on each side until golden brown.