PaulaG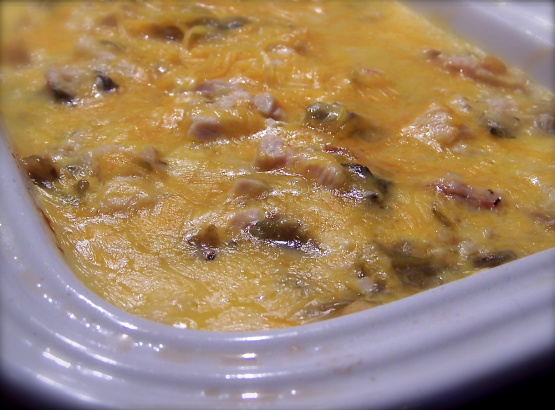 This is an old favorite of ours. I use it for ladies' luncheons, and family meals or family gatherings. Very useful and versatile. It is good made with leftover Thanksgiving turkey or with poached or deli chicken meat. I usually like to add a larger can of diced green chilies (7 ounces). I do not butter my tortillas in order to lower the fat content and the resuts are just as satisfactory. However that step was part of the original recipe so I have left it in, listing it as optional. The recipe came from BH&G.
Top Review by PaulaG
There are many versions of this wonderful dish. I was intrigued by pouring the water over all. This produced a very creamy casserole. My serving yield was more on the lines of 6 to 8 instead of the 12 indicated. Served this was a green salad for a complete meal. Made and enjoyed for *Diabetic Awareness Tag*
Preheat oven to 400 degrees. Combine turkey (or chicken) meat, chilies, onion, and soup.
If desired, spread tortillas with butter. Cut each tortilla in half and arrange 6 halves over bottom of a 13- x 9-inch baking dish.
Spread a third of the turkey mixture over tortillas, top with a third of the cheese. Reapeat layers of tortillas, turkey, and cheese two more times. Carefully pour the chicken broth over all.
Cover and bake for 25-30 minutes or until heated throughout and bubbly. Remove from oven and let stand 5 minutes.
Cut in squares with sharp knife and use a spatula to remove each serving.