flower7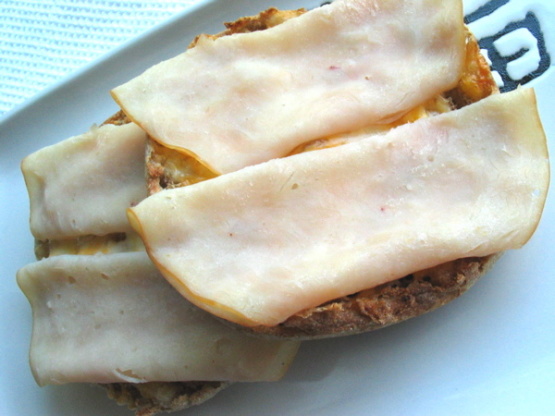 My roommate recently got me hooked on cheesetoast, but with my own variations. I love the cheese on an English muffin, and the turkey just adds that much more protein. I eat this multiple times a week, for breakfast, lunch, or dinner.
1

ounce cheddar cheese (slice)

2 -3

slices deli turkey (I prefer Butcher's Cut from Safeway)
Place sliced cheese on English muffin.
Toast in toaster oven until cheese begins to melt.
Arrange turkey slices on top of melted cheese.
Toast for about half again as long, just enough to warm up the turkey, and the cheese begins to bubble around the edges.
I usually eat this with a few slices of red and green pepper, or some other kind of fruit or vegetable.