Turkey & Cheese Quesadilla
Boomette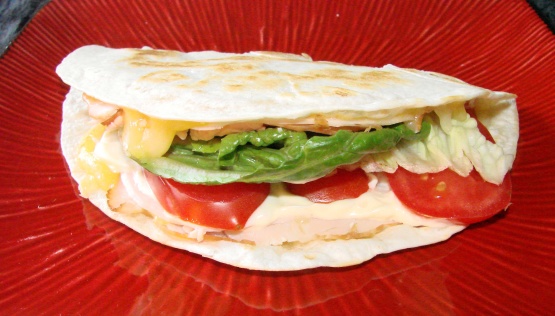 This is just a little concoction that I made yesterday that was delicious. I didn't want to forget it, so I'm posting it here. It makes a quick, easy, and (mostly) healthy snack, lunch, or light dinner.
I used mexican white tortilla, smoked mozzarella, smoked monterey jack. Both cheeses gave the quesadilla an awesome taste. I used light mayonnaise on mine and DH omitted the dressing. I used 2 small leaves of romaine lettuce. I loved it and I'll do it again. It's so easy to do. Thanks Munchkin Mama :)
Place tortilla in a warm skillet. Add cheeses to whole tortilla, within 1/2" of edge. Melt cheese over medium heat.
Add slices of turkey to the center of the tortilla, staggering on top of one another.
Cook another couple of minutes until turkey is warm. (Careful not to burn the bottom of the tortilla). Tortilla should be pretty stiff and crispy. Turn off heat.
Carefully spread miracle whip onto one side of the tortilla. Add lettuce and tomato slices on top of miracle whip.
Fold tortilla in half and press lightly with a spatula. Remove from skillet onto a plate and enjoy hot with soup or chips.