Turkey Burgers With Spinach and Sun Dried Tomato
Dizdezi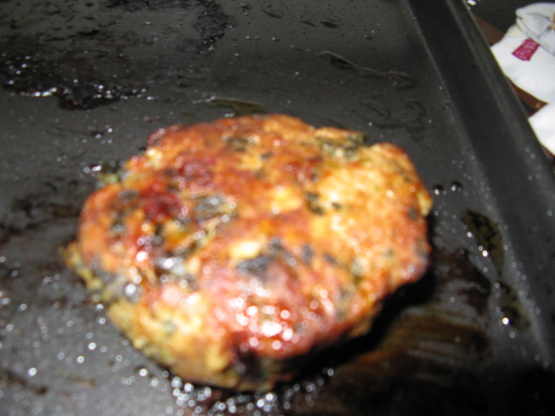 This recipe came from many times of trial and error until I came out with this.
This was soooooo good! I added a 1/4th cup of lite mayo to the mixture and when the burgers were done I topped it with stir fried artichoke hearts and I put the provolone on the top and bottom of the burger bun because I had slices. My husband said it was better than going to a restaurant.
Use a mini chopper to chop the sun dried tomatoes to desired consistancy. I used sun dried tomatoes in oil but drained as much of the oil as possible.
Combine turkey meat, spinach, sun dried tomatoes, provolone, garlic powder & bread crumbs. Mix well like making meatballs and create into burger form.
I cook on an electric stove at 400 degrees for 20 minutes on one side and then turn for another 10 minutes. Serve on seeded buns and top with Franks Red Hot sauce or eat as is.