Turkey Burgers W/ Grated Zucchini & Carrots
Derf2440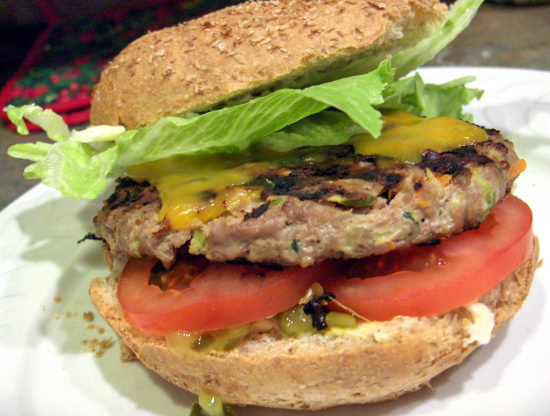 Found these in Real Simple and they are yummy. Succulent, moist, a nice departure from a normal burger and a great way to sneak some veggies in on your family. Served them with garlic fries, hot out of the oven. This is my little ode to Bergy, our Queen of Burgers.
Heat broiler.
In a large bowl, combine the turkey, zuke, carrot, garlic, thyme, s&p, and egg.
Form the mixture into 6 patties.
Heat 1-2 T oil in a pan over medium heat.
Cook the patties, turning once, until no trace of pink remains, 4-5 minutes per side.
Meanwhile, place the bread on a baking sheet and brush with remaining oil.
Broil until golden brown and crisp (a few minutes).
Transfer the bread to individual plates.
Combine mayo and lemon juice and spread about a tablespoon o each toast.
Top with lettuce leaves and burgers.
Can serve with mustard for an extra punch.