Brenda.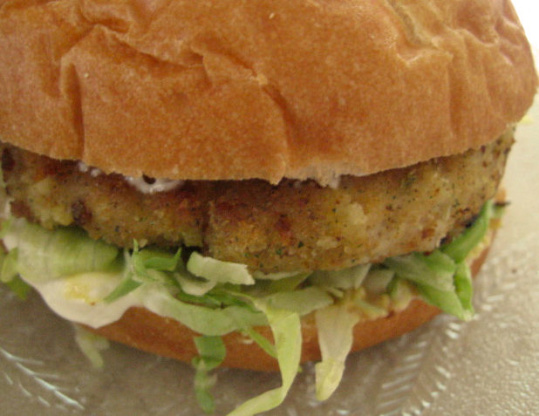 I started making these when my husband was on strike from the steel mill and ground turkey was inexpensive. My kids loved them and still do. Got the recipe from Better Homes & Gardens All-Time Favorite Ground Meat Recipes.

Top Review by Gaia22
Well, I just have to agree & back up every reviewer so far!! This recipe really did make the best turkey burger I have ever had! Deliciously tasty, juicy, & crispy! It went perfect on a toasted english muffin. I used 1 tablespoon of fresh minced onion instead of the 1 teaspoon dried, but I otherwise followed the ingredient list exactly. FYI, I used the Traditional Sage flavored Stove Top stuffing mix. I have added this recipe to my Zaar *6* Stars cookbook! Plus, it is very simple and budget friendly. What more could ask for?! :D Thanks for posting this Keeper!!
In bowl combine egg 1/4 cup water; stir in 1/2 cup stuffing mix, dried onion, and bouillon. Let stand for five minutes.
Add turkey and mix well; shape into 1/2 inch patties.
Coat with crushed stuffing mix.
Cook patties in skillet coated with oil about 10 minutes per side until thoroughly cooked.
We serve with turkey gravy and french fries.