GaylaJ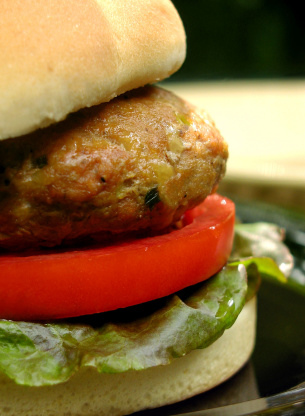 I found this recipe in a Weight Watchers cookbook. I think it is a perfect weeknight meal as it is simple to prepare and tastes delicious.
Fantastic! I very rarely review recipes (in fact, this might be my first), but I have to give this recipe huge credit for having a high reality:expectation ratio. I honestly wasn't expecting much from a turkey burger, despite the raving reviews, so I had pretty low expectations going into this. I was expecting a pretty bland burger that dried out easily on the grill. To my surprise, these ended up being very flavorful and about the most moist burgers I've had in a long time. The turkey I ended up with was likely a blend of dark and white meat, so pure ground breast may be more dry. For comparison, I usually use 85/15 beef, mixed with 1 egg/pound, and seasoned appropriately. That said, I made these very close to the recipe, except that I substituted crushed Club crackers in place of the cheese (on the recommendation of another person that felt the cheese made them too soft for grilling); the substitution worked out great, but these would have been even better with the cheese included. I also grilled them over low / medium-low heat for about 10-12 min, flipping at the half way mark. For the record, they held up as well as beef. Where the turkey was cheaper, maybe a tad more healthy, and just as juicy as 85/15 beef, I may be doing these going forward in place of beef burgers. That's says a lot, coming from a red meat fan who doesn't usually care for poultry!
Combine the 1st six ingredients in a bowl. Blend in the cheese.
Form into 4 patties.
Spray a frying pan with cooking spray.
Cook patties until done.
Serve on hamburger buns with lettuce and tomatoes.