teresas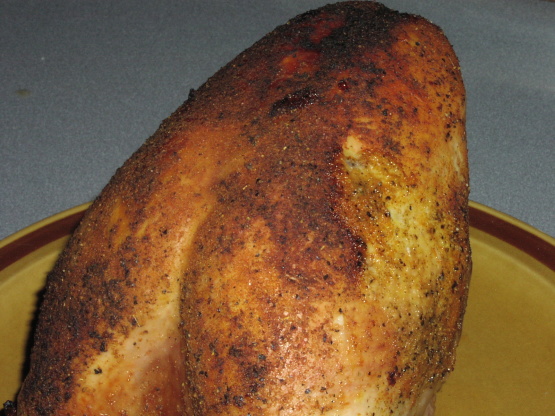 A recipe from Taste of Home that was published years and years ago and has never failed to please. Good enough for company. Take advantage of sales and stock up, you'll want to do a repeat soon.

My first attempt making just a turkey breast, it's been years. This recipe is very tasty and the breast turned out very moist. I didn't have the lemon pepper so I used a few squirts of lemon. I also used EVOO instead of oil or spray.
Preheat oven 325°.
Place turkey breast in a shallow baking pan; coat the outside of the turkey with cooking spray or lightly rub with vegetable oil. Tuck onion and celery underneath in the breast cavity. Combine seasonings and salt; rub over turkey.
Bake, uncovered, for 2-1/2 to 3 hours or until a meat thermometer reads 185°, basting every 30 minutes. Remove turkey and keep warm. For gravy, combine flour and water in a saucepan until smooth. Add pan drippings and bouillon. Bring to a boil over medium heat, stirring constantly; boil for 2 minutes.
Note: If the bottom of the pan begins to dry, add a slight amount of water to the pan.