Turkey Breakfast Sausage Patties
Pamela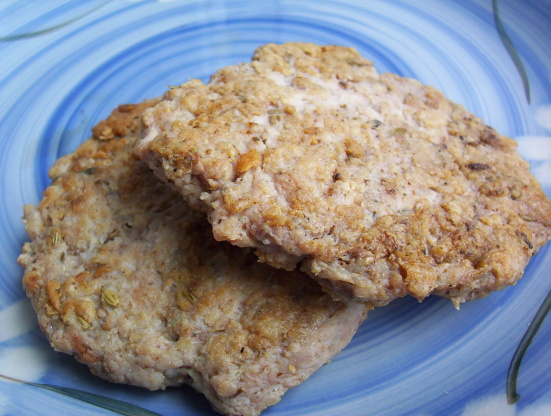 I combined different spices to achieve what tastes almost as good, if not better than regular sausage. Be sure to use regular ground turkey (not ground turkey breast, which is too lean so it doesn't have enough moisture). UPDATE: After all the positive reviews, I decided to submit this to Taste of Home's Light & Tasty and they published it in the Dec/Jan 2008 issue. It's also in the Light & Tasty Annual Recipes 2008 Cookbook.

My kids and I love this recipe, but it can be expensive to make every day. Recently I got an idea from the Taco Bell incident. If they can add oats (which are really good for you anyway) to their taco meat, why can't I add it to my sausage? I ground some oats up in my food processor and added it to the sausage with a little water. It tasted great and I got an extra half pound!
Combine all ingredients (use less pepper if you don't want a spicy taste) and blend well.
If time permits, refrigerate overnight to let the meat absorb the flavor of the spices.
Form into patties and cook as needed, freezing leftovers.
Don't overcook or they will dry out--remove from the heat as soon as they're no longer pink inside, but still juicy. (if you prefer a moister texture, you add a splash of olive oil or an egg to the mixture just prior to cooking).