Nif_H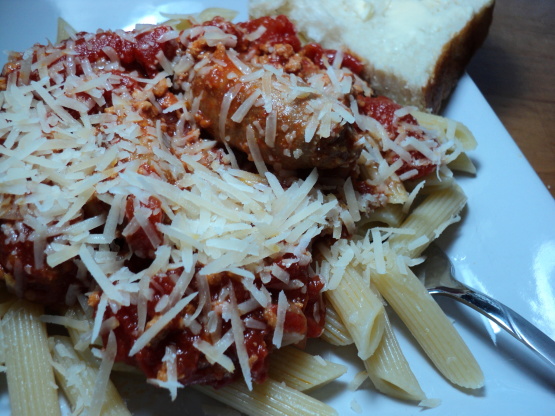 This is such a fabulous recipe from Gwyneth Paltrow! It's a perfect weekend meal. Make sure you allow a good 5 hours, because this is one of those long simmering/make your house smell amazing recipes. It's bolognese made a bit healthier, because of the turkey, but it satisfies every single bit as much as a red meat bolognese. I like to serve this with a Caesar salad and some homemade garlic bread. Yum!

Top Review by Nif_H
This sauce is fantastic and we all really enjoyed it on penne, topped with some freshly grated parmesan with some fresh Italian bread on the side. It's a bit of work at the beginning but that's really it. I only had to add a total of about 1/2 cup water during the process because it kept most of its liquid. The only thing that I wasn't sure about was should I cut the sausages into 4 x inch-long pieces or 4" long pieces. Ha ha! I just cut them in half and left it at that! Made for my teammate for ZWT7. Thanks LifeIsGood! :)
Heat 2-3 tablespoons of the olive oil in a large heavy pot over medium-high heat. Add the sausages and cook, turning them occasionally, until browned all over - about 10 minutes. Remove the sausages to a plate.
Add the ground turkey to the pot and add salt and pepper to taste. Cook, stirring occasionally, for 10 minutes, or until browned. Remove to a separate plate.
Add another 2-3 tablespoons of olive oil to the pot and add the onion and garlic. Cook until they soften and just begin to brown - about another 10 minutes.
Add the tomatoes and their juice along with about a 1/2 cup of water (used to swish out the cans).
Add the ground turkey, stir the sauce well and then nestle in the turkey sausages. Bring the sauce to a boil, season to taste with salt and pepper(doesn't really need much-if at all-salt at this point). Turn the heat to low.
Cover almost completely iwth a lid (letting the steam escape from one side) and gently simmer for about 4 hours - adding splashes of water every hour or so if the sauce is drying out at all.
Uncover the sauce and stir in the tomato paste. Barely cover the pot this time and simmer for another hour.
When it's almost time to serve, bring a large pot of water to a boil and salt generously. Add the rigatoni and cook according to the pacakage directions.
Serve the sauce over the cooked rigatoni with a good grating of Parmesan cheese on top.