PaulaG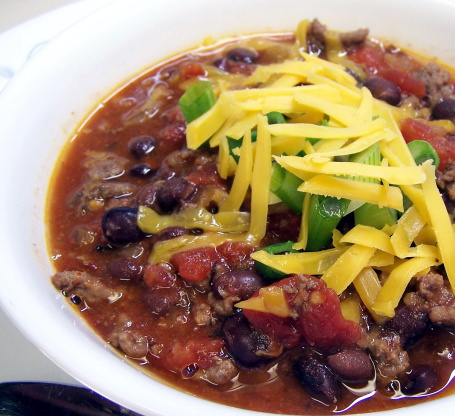 A chef made this at a cooking class in the upstairs room at the supermarket in town. When I looked over the recipe, I thought "I'm not going to like this". When I watched the prep & the end result, I thought "I'm not going to like this". She served it over a combination of white & brown rice with a side salad. Was I ever wrong. I liked it very much & I will be making it for my DH very soon!

Good meal for my dieting hubby. We liked it a lot, next time I'd add more chili powder and perhaps some cayenne. It was a little bland for me, but I think that was the point. I put some fat free cheddar on top, that was a bad idea. Fat free cheddar is horrible! Next time I'll use the real thing.
Heat oil in a dutch oven over medium high heat; add turkey, onion& garlic and cook, stirring to break up the lumps, for about 5- 7 minutes or until turkey is no longer pink.
Add seasonings, stir& cook for another 2 minutes.
Drain off any excess fat.
Add chilies, tomatoes & beans and combine thoroughly.
Heat to boiling, stirring often.
Reduce heat to low & simmer, stirring occasionally, for 30 minutes.
Stir in lime juice & remove from heat.
Serve topped with green onions & cheddar cheese.