Pam-I-Am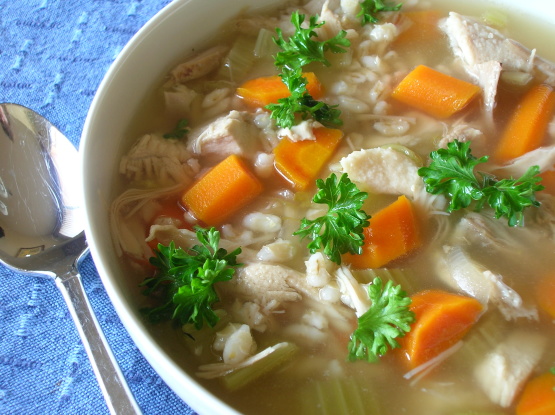 I always make this soup after the holidays when I have a nice, meaty turkey carcass for making stock. You can get a lot of servings out of it simply by increasing the amount of water used. This recipe was developed in the tests kitchens of Homemakers Magazine.

I'm writing this because I started soup this morning and then searched here and it's almost just what I just made. Only difference is I added a can of organic northern beans and a can of organic corn and a big spring of fresh thyme. Also, I only had a turkey leg with a bit of meat on it, not a carcass; but it still worked wonderfully to just boil the leg for a couple hours and then add all the ingredients. I also roasted the veggies before adding them.
Break up the turkey carcass to fit a large saucepan; cover with water.
Add onion, carrots and celery.
Cover and bring to a boil.
Skim any scum that rises to the top; discard.
Reduce heat and simmer, uncovered, for 2 hours.
Strain soup into another large saucepan, reserving the carcass but discarding the vegetables.
Return the stock to simmer; stir in barley and simmer, covered, for 30 minutes.
Add diced carrots, onion and turnip and simmer for a further 30 minutes, or until the vegetables are tender.
Add turkey.
Season well with salt and pepper and garnish with parsley.