Turkey Barley Goulash Casserole (Rice Cooker)
Demandy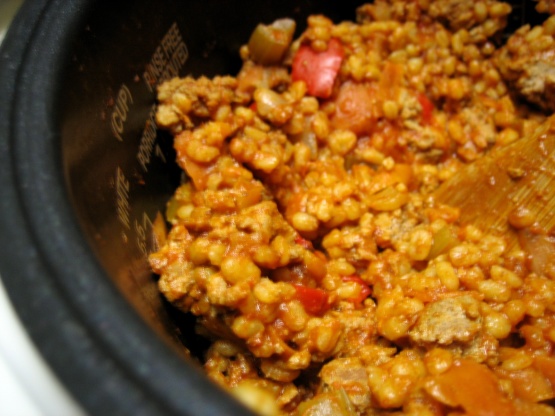 Healthy and easy rice cooker dish that you don't have to babysit, inspired by a Moosewood creation. This will be more like a casserole consistency than a stew, because the barley soaks up the cooking liquid. You can sub a can of diced tomatoes for the tomato paste and water. You may top with shredded cheddar cheese if you wish. This reheats wonderfully.

This was a really pleasant surprise! I made the recipe for the Healthy Choices ABC game, and honestly just tagged it b/c it looked like an interesting use for a rice cooker. The flavors blend very nicely, and it is definitely comfort food-ish served with a dense bread and green salad. My rice cooker seems to have fewer bells and whistles than Panthur's, though, so to be on the safe side I browned the meat/veggies prior to cooking. This way I could just dump everything in and let the barley cook. This only took one 20-minute cycle of my rice cooker to be just right. I definitely recommend using the optional spices...the paprika at the very least, as it was a standout in the flavor. Thanks for a new keeper, Panthur!
Set rice cooker to "Quick Cook", or if you don't have that setting just turn on the rice cooker. Toss in first five ingredients, closing cover in between chopping to keep the heat inside. Peek every few minutes and stir to break up turkey clumps, then close the cover again.
When turkey is cooked, add rest of ingredients. If you don't have the final three spices, you can leave them out or substitute your own favorites.
Close cover and set rice cooker to brown rice setting. If you don't have a brown rice setting, set it for white rice. When it finishes, check to ensure barley is cooked through. If barley is still too chewy, let it run another cycle. It should take about 40 minutes. If mixture is too dry, add a little more water.
Top with cheddar or parmesan cheese if you wish.