Turkey Bacon Vegetable Soup
loof751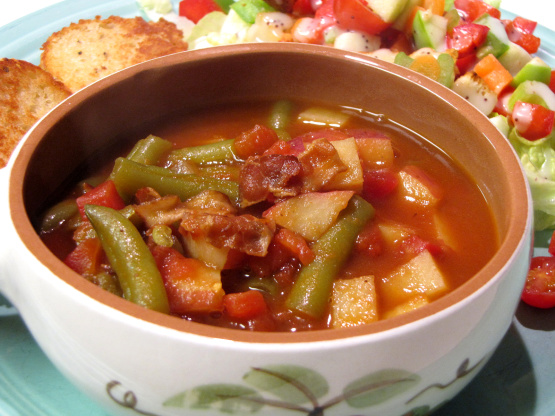 After really REALLY trying to like it, I still HATE turkey bacon, cooked as bacon, but it is really GOOD in this soup -- tastes more like ham! This recipe is a quick throw together soup on a cold winter's day, to use up a package of turkey bacon. Served with Parmesan Sour Cream Cornbread --

Yum - what a great and hearty soup! I had some red-skinned potatoes on hand so used them, and was generous with the crushed red pepper because we love it. Quick to make, filling and flavorful - thanks for sharing the recipe! Made for Fall Pick-A-Chef 2011
Melt butter in a saucepan and saute chopped onion and chopped turkey bacon until onion is translucent, and bacon is sorta frizzled ~ about 4 minutes.
Add beef broth, cubed potatoes, bay leaves, celery flakes, thyme, red pepper flakes, and Worcestershire sauce ~ bring up to heat, then simmer for 10-12 minutes until potatoes are tender, but still firm.
Add drained green beans, and diced tomatoes with juice ~ simmer for about 5 minutes more, until heated thoroughly.
Serve with Parmesan Sour Cream Cornbread, and sliced jalapenos.