Turkey and Sugar Snap Peas in Orange Mustard Sauce
dicentra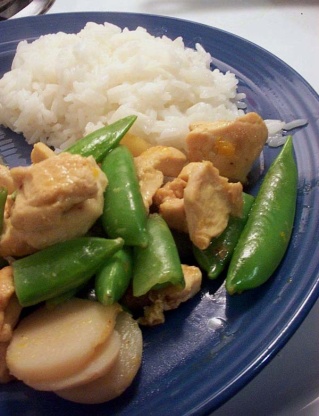 This comes from my Williams Sonoma Stir Fry cookbook. Mmmm… Orange and peas. My favorites! Serve this with some steamed white rice.
To make the sauce, combine the orange juice, zest, soy sauce, ginger, shallot, honey and mustard in a small bowl and stir to mix well. Set aside.
To make the marinade, combine the egg white, mirin, soy sauce and cornstarch in a bowl and stir to dissolve the cornstarch. Add the turkey pieces and toss to coat evenly. Set aside.
In a wok or frying pan, over high heat, warm 1 tablespoon of the oil, swirling to coat the bottom and sides of the pan. When the oil is very hot, but not quite smoking add the peas and stir and toss every 15-20 seconds until just tender, 2-3 minutes.
Add the water chestnuts and stir and toss for 1 minute longer. Transfer to a dish and set aside.
Reduce the heat to medium-high. Add the remaining 1 tablespoon of oil to the pan, again swirling to coat the pan. When the oil is hot, add the turkey pieces and stir and toss every 15-20 seconds until firm and no trace of pink remains, 4-5 minutes.
Quickly stir the reserved sauce, add to the pan over medium high heat. Bring to a simmer and stir and toss until the sauce thickens slightly, 1-2 minutes.
Return the peas and water chestnuts to the pan and toss to coat with the sauce. Cook for 1 minutes longer. Serve hot.