Turkey and Stuffing Meatloaf
Ang11002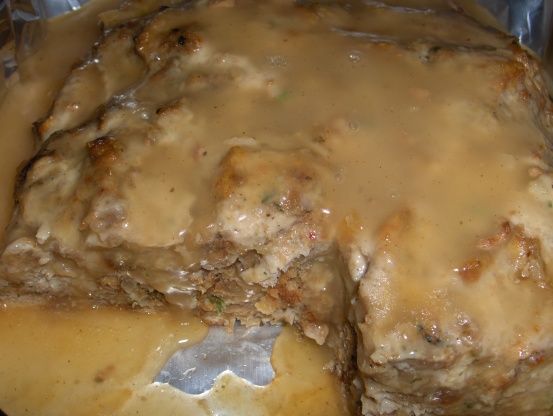 This was what I thought was an invention of mine until I looked it up and found other recipes. Mine is more simple than some others but it makes a very dense meatloaf that tastes just like a turkey and dressing dinner. We're debating whether we are going to skip the big family meal this year and just cook this up.

It's now a house favorite. Delicious and easy!
2

lbs ground turkey

1

package of mccormick meatloaf seasoning mix

2

tablespoons vegetable oil

1

jar of store bought turkey gravy (1/4 cup for the meat the rest for the top)

1

box of turkey flavor seasoned stuffing mix (crushed but not bread crumb fine)
In a large bowl mix the turkey with the seasoning mix, oil, 1/4 cup of gravy, and stuffing mix.
Spray a loaf pan with cooking spray and put the meat into the pay making sure to press it down.
Cover with Foil and cook for 60 minutes at 375 degrees.
After 60 minutes, remove from the oven and uncover. using a the handle of a wooden spoon poke holes in the meatloaf about 1 inch apart.
Pour the remaining gravy over the meatloaf and put back in the oven (uncovered) for 10 minutes.
Remove from the oven and allow to rest for 10 minutes.
Slice and serve.