Turkey and Dressing Soup (Use up Those Leftovers Soup)
Swirling F.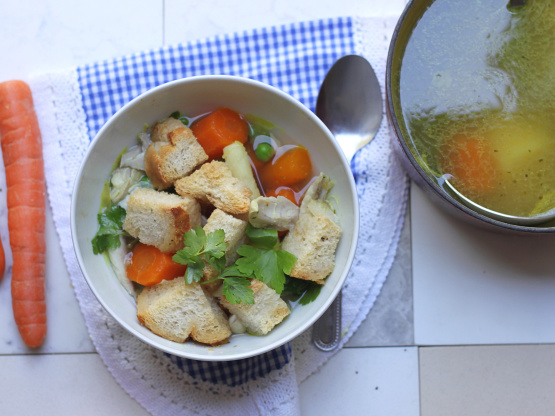 This is more of a concept than an actual measured out recipe. It is how I like to use up Thanksgiving dinner leftovers. I can only have so many turkey sandwiches before I hurl.

POTSIE, POTSIE, POTSIE - OH MY WORD! How in the world did you ever come up with this combination and who would have ever thought it would taste the way it does - ABSOLUTELY DELICIOUS! I used two of the large cans of Swanson Chicken Broth (49 1/2 Ounces each), one onion chopped fine, 4 stalks of celery diced, 1 heaping spoon of minced garlic, 4 carrots sliced, about 4-5 cups diced turkey and 5 heaping cups of cornbread dressing. My cornbread dressing is very seasoned so I didn't have to add any additional seasonings. The flavor of this soup is absolutely incredible. DH & I were blown away to say the least. DH just said this is his new favorite soup and he'll slice and dice whatever I need to make this again. Thanks for sharing this "sleeper" recipe.
Directions? Are you kidding? Make it up as you go along but here is an example.
After carving your turkey save any tasty drippings for later to add to your turkey or chicken stock.
Force feed your family left over turkey for a couple of days and then round up the remains of that poor bird.
Heat 4-6 cups or so of homemade turkey stock in a saucepan until simmering, or use purchased chicken stock.
Toss the turkey into the pot along with some stuffing. Cornbread stuffing is particularly nice but I have used both cornbread and bread stuffing. If you have made a fancy smancy raisin/oyster/cranberry/walnut/apple stuffing this recipe is not for you this year. Keep it simple.
If you have any left over steamed peas throw a handful into the pot. If you have any steamed left over carrots throw some of them in, too. Keep in mind I'm not talking about left over pea SALAD or carrots cooked in brown sugar and nutmeg! Keep it simple.
You may or may not need to add any additional seasonings, depending on how well seasoned your stuffing was.
If you don't have any left over veggies that is fine. It is still good with just turkey and stuffing.
Add seasonings if you need to.
Your end result will only be as good as your turkey dinner was to begin with and your own imagination. Good luck!