Turkey and Cranberry Sandwich
lets.eat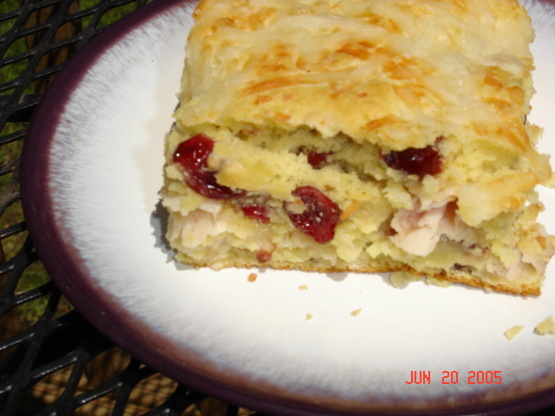 I've made this many times and we all love it. From the Bisquick 2 Cookbook by Betty Crocker. This can be eaten warm or chilled, which makes it perfect for brown bag lunches. I have also doubled this and baked in a 13x9 pan and cooked it for the same length of time

It has potential but we found it a little dry and bland for our taste. If I do make this again, I will do a little experimenting. Maybe use cranberry sauce instead of the dried cranberries.
Heat oven to 350'. Spray bottom and sides of square baking dish 8x8x2" with cooking spray.
Stir bisquick mix, cranberries, milk, mustard and egg until blended. Pour half of the batter into the baking dish. Top with half of the turkey; sprinkle with 1/2 cup of the cheese to within 1/4 inch of edges of baking dish. Top with remaining turkey. Pour remaining batter over turkey.
Bake uncovered 45 to 50 minutes or until golden brown and set. Sprinkle qith remaining 1/2 cup of cheese. Let stand 5 minutes before cutting.