Turkey and Apple Melt Sandwich
SB61287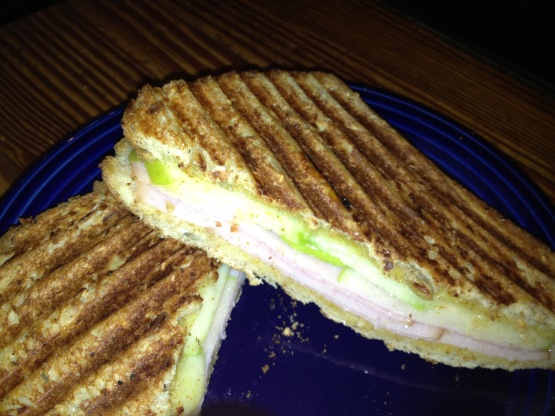 A healthy twist on a patty melt. Also good with pear instead of apple.

I made this recipe for a light dinner & I had all ingredients so it was a very quick & easy sandwich. Unfortunately, it received mixed reviews.I thought it was tasty. Other family members thought it was average. I do think if the apple had been sliced thicker, it would've added more, but when reviewing I always follow the recipe exactly. DS didn't even know it had apple on it.
Combine mustard and honey in a small bowl. Spread one side of each of 4 bread slices with 1 1/2 teaspoons mustard mixture.
Place one cheese slice on dressed side of bread slices; top each with 4 or 5 apple slices and 2 ounces turkey. Top sandwiches with remaining 4 bread slices. Coat both sides of sandwiches with cooking spray.
Heat a large nonstick skillet over medium-high heat. Add sandwiches to pan. Cook 2 minutes on each side or until bread is browned and cheese melts.
Slice each in half diagonally and serve.