Tupperware "simply Salsa"
Reagan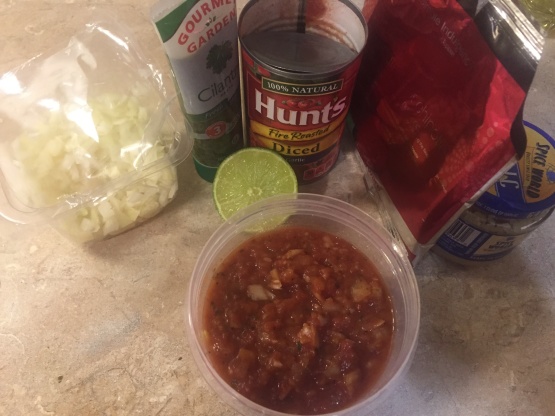 I was at a Tupperware party and the host made this AMAZING salsa, all the girls swooned over it and bought the chopper to make it. I can't get enough! (You don't actually need the chopper to make it)

Top Review by Reagan
I was so excited to see this recipe because I wanted to know what to do with this southwest chipotle seasoning I picked up at a Tupperware party. The recipe was good, but I tend to like a chunkier more veggie filled salsa. This one had a little too much juice from the tomatoes for my tastes. If I do this again, I'd add orange, yellow and red peppers, more onion and garlic and maybe 1/2 the tomatoes. Good start, though! Thanks for sharing!
Peel and slice onion into 4 pieces place in Quick Chef with blade (or a food processor works just fine) and roughly chop.
Peel and smash two garlic cloves add to onions.
Add remaining ingredients; chop until desired consistency.
Serve with chips or as a topping for tacos!