Tunisian Tomato Soup With Chickpeas and Lentils
Annacia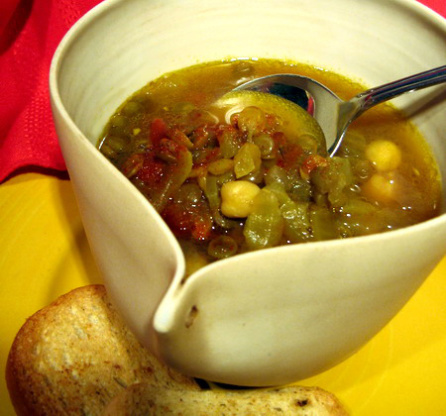 A variation on a Molly Katzen recipe I found on the Internet. Though the spices are quite different, the basic ingredients -- tomatoes, lentils and chickpeas -- remind me of the popular Moroccan soup called harrira. Have not yet tried this one but as fall comes, this will certainly make an appearance in my soup pot.

Loved the seasonings in this Toni. The cinnamon cooking with the lentils was out of this world aromatic. I thought that the cumin seed and the ground cumin might be a bit strong but it all worked perfectly. I found that the lentils still had a tiny bit of crunch when I ate it. Check them for tenderness before you scoop them into serving bowls. If your a hardcore Meatitarian chopped chicken would not be amiss in this at all.
In a large soup pot, place lentils with the cinnamon stick in 7 cups water and bring to a boil. Reduce heat and cook until tender, about 30 minutes. Remove and discard the cinnamon stick and drain the lentils, reserving the liquid.
Meanwhile, heat oil in a soup pot. Add the onion, garlic, salt, turmeric, cumin seeds, ground cumin, and bay leaves. Saute over medium heat for 5 to 10 minutes or until the onions are soft. If the pot gets a bit dry moisten with some of the reserved lentil water.
Measure out the reserved lentil water and add water to reach 6 cups of liquid and return to soup pot with the spiced cooked onions. Add the canned crushed tomatoes with juice and bring to a boil. Lower heat to a simmer, partially cover and cook for another 15 minutes or so.
Stir in the chickpeas and lentils and cook for about 5 minutes to warm through. The legumes should not become mushy.
Season to taste with the two peppers and lemon juice; adjust salt.
Serve hot with some yogurt [omit for Vegan], a sprinkling of parsley or mint, and currants, if desired.