awalde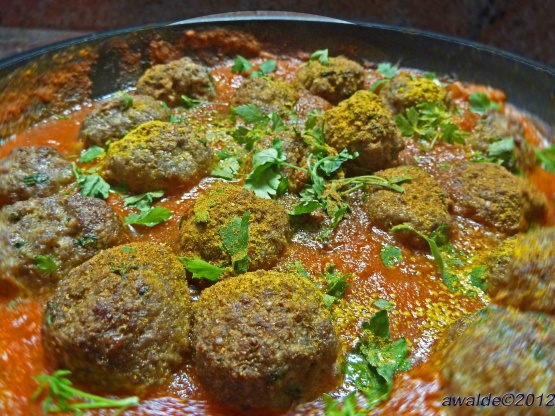 Inspired from the gutsy gourmet for the na*me game in the na*me forum.

Top Review by awalde
How delicious and easy!
I prepared this dish for dinner and everything went perfect.
The only change was that I prepared the double amount of sauce and 18 meatballs and my children will bring them to school for lunch. 3 meatballs for each of us 4 for dinner and 3 meatballs for DS and DD for tomorrows lunch. I served this with plain bulgur and I needed enough sauce for tomorrow as well.
I took the photo just after adding the meatballs to the sauce, I followed the recipe and I continued to cook them until ready!
Thanks a lot for this delicious dinner!I wish you thousands of reviews!
Mix ground beef, breadcrumbs, parsley, nutmeg, onion powder, salt, pepper, egg and garlic together.
Make 16 meatballs.
Brown meatballs under broiler until golden brown.
Steam the tomatoes and onion while meat is broiling.
When meatballs are browned put in tomato mixture.
Add parsley, salt, cinnamon, dash saffron if using, turmeric, pepper, and tomato juice.
Close lid tightly and simmer gently for 30 minutes.