lazyme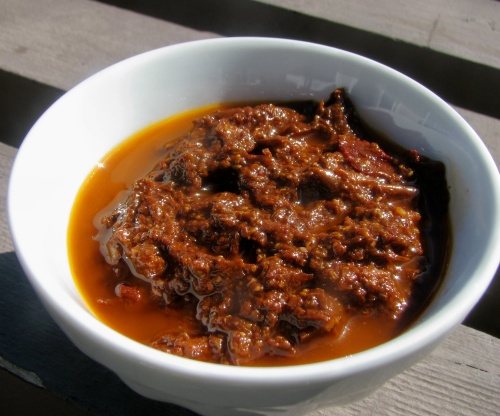 Rub this fiery Tunisian chile paste on meats or fish before searing or grilling, or stir a small spoonful into some mayonnaise for a sandwich spread with a kick. You could also mix a dollop into butter and toss with steamed veggies or couscous. The hotter the chiles, the hotter the harissa, so use sparingly to taste. From wholefoodsmarket.com The prep time does not include the 20 minutes needed to rehydrate the chiles.
Remove seeds and stems from chiles (wear gloves), cover in boiling water and set aside for 20 minutes to plump and rehydrate.
Meanwhile, preheat a small dry skillet over medium-high heat and toast cumin, coriander and caraway seeds for 2 to 3 minutes, until seeds are fragrant and begin to pop. then
Remove from heat and allow to cool transfer seeds to a blender and grind them to a powder.
Drain chiles and add to blender with garlic, olive oil and salt; blend to a smooth paste.
Cover and store in refrigerator for up to 2 months.