teresas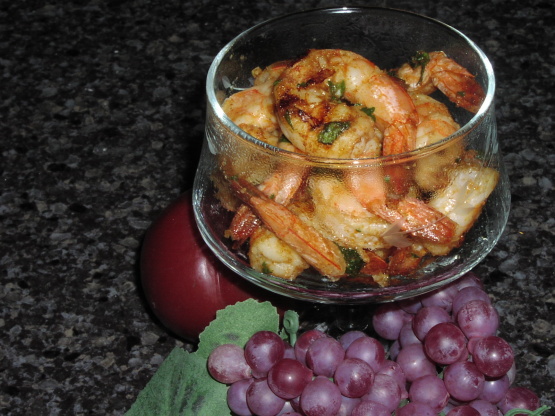 This recipe has been placed here for play in ZWT9 - Tunisian. This recipe was found at Recipes4us.co.uk. It sounds delicious to me. Please note: prep time is marinating time. * I have adjusted the cumin in this recipe based on Teresa's comments, from 1 tsp to 1/2 tsp. Thank you TeresaS.

Both the hubby and I thought this was good...but the cumin was very overpowering...that's was the only flavor we tasted...because we enjoy the taste of shrimp we were a bit disappointed that it was on the back burner...the directions say to pour the mixture over the shrimp...there was nothing to pour...it was a paste after mixing all the ingredients together...even though this wasn't to our liking it was a pleasure to make...Made for "FYC" tag game...
Clean and shell shrimp, leaving tails intact. Place in a single layer in a shallow flameproof dish.
Place the remaining ingredients, apart from the lemon wedges, in a small mixing bowl and mix well then pour over the prawns, cover with clingfilm and leave to marinate for 20 minutes up to 2 hours, turning from time to time.
Preheat the grill to hot then grill the prawns for 4-5 minutes until they turn pink , turning a few times during the cooking period and brushing with the marinade every time you turn them. Serve immediately garnished with the lemon wedges.