Tunisian Garlic and Chickpea Soup
Annacia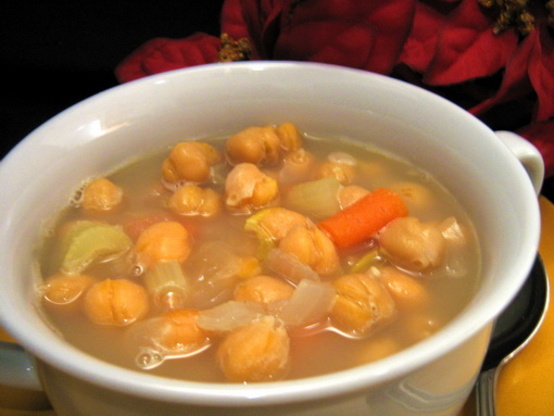 An 8-hour soaking time is needed but if you enjoy something different this just may be it. Garlic and warm spices add so much to this substantial soup. From Ethnic Cuisine.
Heat 4 tablespoons of the oil in a large heavy-bottom soup pan. Add garlic and cook for 2 minutes. Add the drained chickpeas, water, cumin and coriander. Bring to boiling, then reduce heat and simmer for 2 1/2 hours or until tender.
Meanwhile, heat remaining oil in a separate pan. Add the vegetables, cover and cook over medium heat, stirring frequently, for 20 minutes.
Stir the vegetable mixture into the chickpeas. Transfer half the soup to a food processor or blender and process until smooth. Return the purée to the pan, then add half the lemon juice. Taste and adjust lemon juice. Season with S&P. Heat through. Ladle into warm bowls and sprinkle with the chopped fresh cilantro and garnish with cilantro sprigs.