Tunisian Farka (Breakfast Pasta from North Africa)
twissis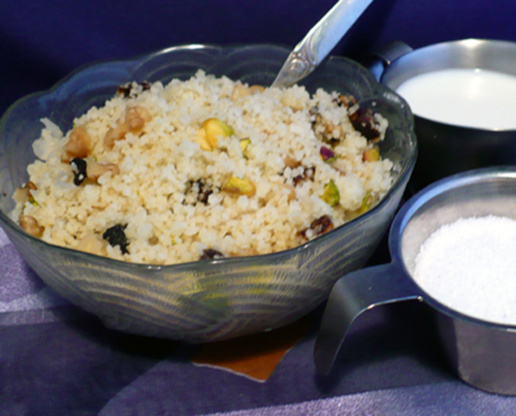 A breakfast dish posted for Zaar World Tour III.

Made as written for ZWT6 except for the addition of some raisins at the last moment just because I had an excess of them on-hand. This easy-to-fix recipe is prob the biggest surprise for me in ZWT6 to-date. I'm not at all sure why, but I was prepared not to like this. Instead I found a breakfast treat I like way more than Europe's muscli or US granola, cereals, etc. My combo of nuts from your list included walnuts, almonds, pistachios & pine nuts. I used milk + a bit of extra sugar to eat it warmed, but think it would be as good microwaved vs baked to warm & I even liked it at room temp after fully-cooled. I am not a morning-person, nor are we blessed w/all manner of convenience foods as in the US .. so I must tell you the only labor-intensive part of this recipe for me was chopping the nuts while half asleep. I will chop them the night b4 from now on & then this will be ready in a flash the next morning! Thx for posting this recipe full of flavour & texture. It is definitely a 5* keeper for me! :-)
2 2⁄3 cups couscous (about 1 pound)
2 2⁄3 cups water
1⁄2 cup sugar
1⁄4 cup vegetable oil
1 1⁄2 cups chopped toasted mixed nuts (such as walnuts, blanched almonds, hazelnuts, pistachios and pine nuts)

1

(8 ounce) box pitted dates, cut into pieces

2

cups milk, hot
additional sugar
Place couscous in large bowl. Bring 2 2/3 cups water, 1/2 cup sugar and oil to boil in heavy large saucepan, stirring to dissolve sugar. Pour mixture over couscous and stir until well blended. Cover and let stand 10 minutes. Fluff with fork to separate grains. Mix nuts and dates into couscous.
Transfer couscous to 13x9x2-inch baking dish. Cool. Cover with foil. (Can be prepared 4 hours ahead. Let stand at room temperature.)
Preheat oven to 350°F Bake couscous until heated through, about 20 minutes. Spoon into bowls.
Serve, passing hot milk and additional sugar separately.