Geema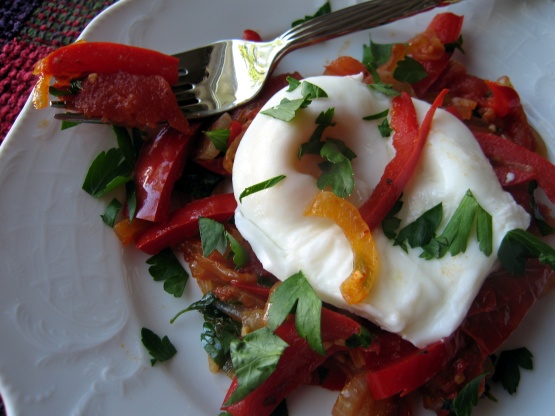 My love of eggs - for breakfast, lunch or dinner - is no secret. So when I came across this one I knew it was a likely winner. Have not tried it yet but posting it with the original ingredients. I will most likely reduce the calorie count in my own rendition.

Very good! I used the stovetop option. This was flavorful and a had a nice little kick from the chili pepper. Thanks for sharing!
Before preparing dish, decide whether you want to cook the eggs in the oven or on the stove. Directions for both methods provided.
Heat oil in a heavy skillet. Add onion and cook 5 minutes or until soft. Add peppers and chile, cover and cook 8 minutes or until bell peppers are just tender.
Add tomatoes to bell pepper mixture, cover and cook 5 to 8 minutes or until vegetables are blended but still retain their shape and texture. Season with salt and pepper and stir in mint.
For oven baked eggs: Preheat oven to 350F (180C). Divide mixture among four individual serving oven-proof dishes. Make an indentation in vegetables and carefully add an egg to each one. Cook in oven 12 to 15 minutes or until eggs have set.
For skillet poached eggs: Make four wells or cups in vegetable mixture and carefully break in eggs. Cover and cook over low heat 5 minutes, basting occasionally with juices.
Garnish with mint sprigs and serve.