Tuna, Veggie & Quinoa Salad
hclaire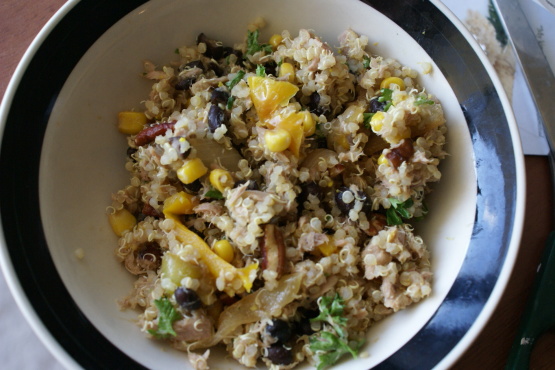 A simple salad, but full of healthy ingredients. I love this perpared pilaf style (i.e. no dressing), but my hubby prefers it with the dressing. You can switch up the ingredients, too (I do quite often depending on what I have on hand!)

The combination is nice. I like the orangy taste. However, the salad needs more flavor: I think I would like to add something sour (to go with the fish) or something spicy, or anything to add some flavor.
Combine quinoa & water in a saucepan with a tight-fitting lid. Bring to a boil over medium high flame, then reduce flame to low and cover. Cook, stirring occasionally, till water is absorbed and quinoa is tender, 12-15 minutes.
Combine tuna, beans, corn, bell pepper, and herbs in a large bowl.
In a small bowl, whisk olive oil, zest, orange juice, and salt and pepper till smooth.
When quinoa is done cooking, let cool a few minutes, then combine with veggies in bowl. Drizzle with dressing (if using), stir to mix. Serve warm or chilled.