Prep 15 mins
Cook 25 mins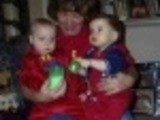 This is a recipe I have had for 30+ years. Originally came from a recipe book I had about America's Favorite Casseroles.
Directions
Combine the first three items, boil, stir occasionally.
Stir in macaroni and remove from heat.
Add tuna and 2/3 of the cheese.
Pour into a two quart casserole and cover.
Bake at 425 degrees for 20 minutes.
Stir once then sprinkle with remaining cheese.
Bake 5 minutes more.
Most Helpful
I loved this, I added salt and vinegar chips to the topping cheese to make a crust. I would have given this a 5 but hubby rated 3 so I went for the middle on this one. This really has a nice 70's comfort food feel to it
This hit the spot! I used light corn syrup, albacore tuna, and extra cheese (slices that I tore up). Next time I'd use even more cheese--maybe mix it with cheddar--and probably add some seasonings. I liked that I didn't have to cook the noodles separately. It didn't taste sweet to us at all--just good and savory.

Great name for a good dish!! Love the ease of preparation. I used Swiss cheese and a lite syrup and it was great. Was dinner for two for two nights. Well worth doing agin. Thanks Trisha