Tuna-Topped Chopped Salad To-Go
CoffeeB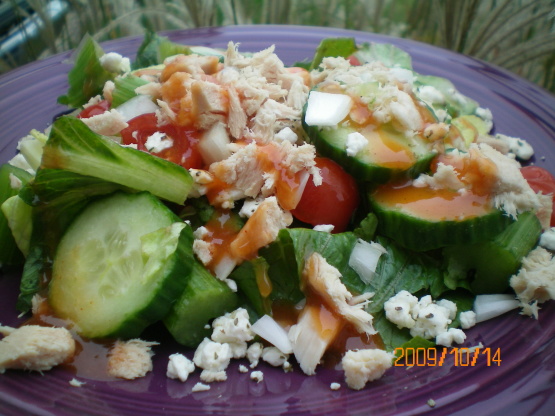 From Kraft foods. I eat this when I want my protein levels up up up!!! Of course it does have some fat in it too, but I tried to eliminate some of the fat to make it diet "healthier"! :) I leave out the tomatoes! But that is personal because I don't like them!

Since I have salads most nights for my supper this one was especially nice with the added tuna. I know I don't get enough protein in my diet being a vegetarian and so thanks for including this in the recipe as a great reminder of how awesome these flavor combinations blend. The only thing I omitted were the black olives per preference. I used Ken's Steak House FF Sun-dried Tomato Vinaigrette dressing. Made for HolidayTag.
Put dressing in the bottom of a resealable salad sized container.
Place remaining ingredients on top.
When ready to eat shake container to coat salad with dressing.