Parsley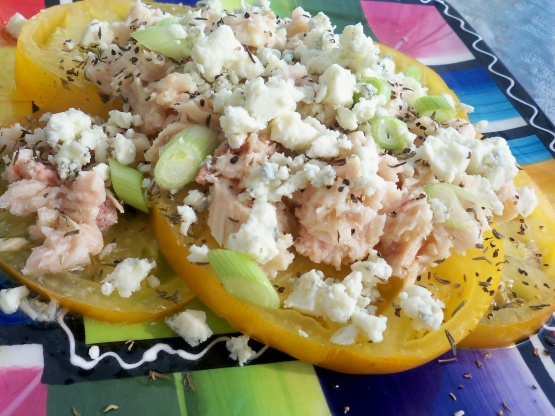 This was something I made up while living on a student budget in Paris, France. This is another example of how the greatest things that come out of the kitchen are not a result of planning. I just looked around at what I had in the cupboard, put them together and it worked! It is a great starter or side dish. One rule though...you MUST add the blue cheese! It is what brings everything together. I kind of think of this as the French version of a caprese salad.
Arrange the tomato slices on a plate.
Take the tuna out of the can and arrange on top of the tomato slices.
For the dressing: If you buy tuna packed in oil, use a few teaspoons of that from the can and add the lemon juice. Otherwise use any vegetable oil or even olive oil, (vegetable oil is obviously more budget friendly) No need to add salt because the cheese is plenty salty.
Crumble the blue cheese on top of the tuna and tomato. I used Roquefort, which is A-M-A-Z-I-N-G! But any strong blue cheese will work.
Dress the salad simply with the lemon and oil and sprinkle over the thyme and pepper.