Tuna Tartare (Barefoot Contessa) Ina Garten
sutsenwu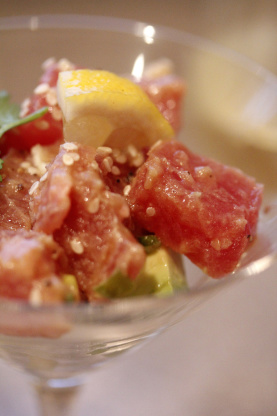 I just saw the Barefoot Contessa make this on her "Book Party" show, Barefoot Contessa Family Style, 2002. It reminded me of an affair I attended awhile back and they served Tuna Tartare -- I loved it! This runs the closest second to the one I had. I hope you will try it -- it is scrumptious! It requires at least 1 hour chilling time while the flavors marry.
This is fabulously delicious! It made a truly tasty sushi filling. Changes: I cut way down on the oil, and subbed 1/2 sesame oil for an even more Asian flavor. And instead of hot pepper sauce, I crushed some dried hot red peppers. Also, I didn't use as much lime juice---because I didn't have enough. Still tasted great.
Cut the tuna into 1/4-inch dice and place it in a very large bowl.
In a separate bowl, combine the olive oil, lime zest, lime juice, wasabi, soy sauce, hot red pepper sauce, salt, and pepper.
Pour over the tuna, add the scallions and jalapeno, and mix well.
Cut the avocados in half, remove the seed, and peel.
Cut the avocados into 1/4-inch dice.
Carefully mix the avocado into the tuna mixture; so that the lime juice covers thewm. (To prevent discoloration).
Add the toasted sesame seeds, if using, and season to taste.
Allow the mixture to sit in the refrigerator for at least 1 hour for the flavors to blend.
Serve on crackers.