Pam-I-Am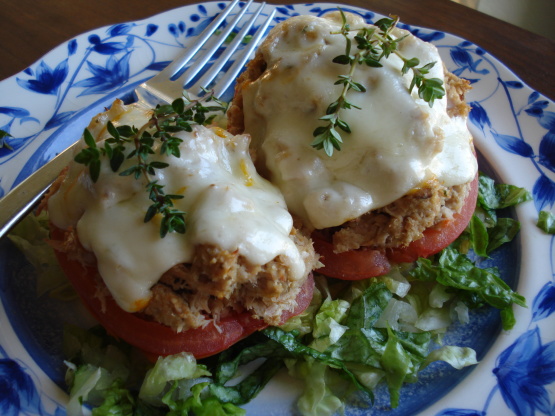 A nice easy supper for 2.

These had a nice flavor with the italian seasoning and seasoned bread crumbs. The texture reminds me of a cross between salmon patties and tuna melts. Technically, I found that the tuna mixture was too dry to cook in a sauce pan without it burning, so I added about 1/4 cup of water and put the mixutre in the microwave for 2 minutes on high instead. I stuffed my tomatoes, then put the cheese on top and in the toaster oven for a few minutes to melt. Again, the flavor was very nice, but I felt the tuna mixutre was very dry. I think that adding a little mayo would improve the moisture level.
In a bowl, separate tuna into very small pieces.
Add bread crumbs, onion, mustard, pepper, Italian seasoning and egg; mix well.
In a medium saucepan, cook mixture for 2 to 3 minutes over medium heat.
Set aside.
Slice off 1/2 inch of each tomato top.
Leaving a 1/4 inch thick shell, scoop out pulp and discard.
Spoon tuna mixture into shells and place in a baking dish.
Top with mozzarella cheese and brown lightly under broiler.
Garnish with yogurt, if desired.