dicentra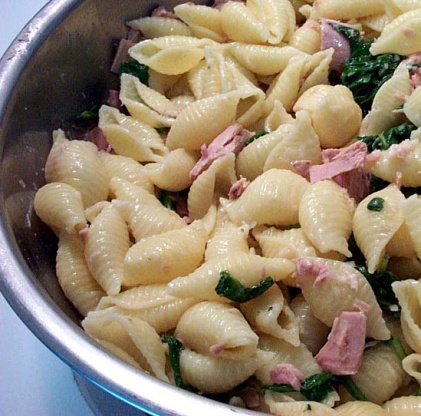 A lovely mix of tuna, spinach and pasta. Served hot, this makes a great late night supper. Great cold, too!
Cook pasta in large pot according to package directions. Meanwhile, drain tuna, set aside. Mince garlic, set aside.
When pasta is done, drain and set aside. Reduce heat to medium. In same pot, add olive oil. Add garlic. Saute garlic over medium-low heat, stirring frequently until garlic takes on color. When garlic is colored to a medium golden brown, add spinach. Lid pot and reduce heat, stirring occasionally. When spinach is shiny and wilted, add tuna. Stir. Lid and let simmer for one minute. Add pasta, stir. Lid again, let simmer one minute. Add breadcrumbs, stir, lid for one minute. Add cheese, stir and serve.