Tuna Salad Sandwich With a Bite!
PaulaG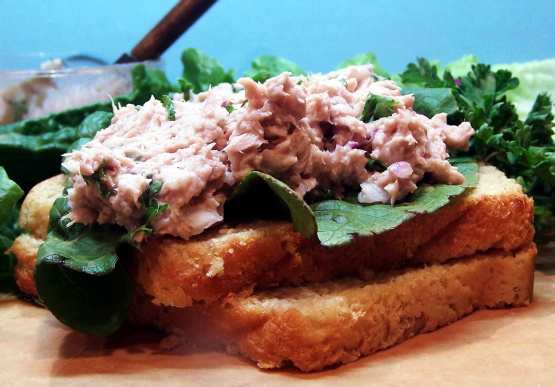 A wonderful change from regular tuna salad sandwich. This is the only way we do it in our house! Note: I didn't notice until March 2010 (took me 8 years) that the ingredient horseradish had somehow defaulted to horseradish sauce. There are many great reviews here from people who used horseradish sauce, so don't be afraid to try it. I have corrected the recipe as it really does call for prepared horseradish, which is much hotter.

This was EXCELLANT. My husband was going to make tuna fish sandwiches and I told him I had a new recipe to try so I would make them. He loved the taste. I will definitely be making this again. It is perfect for lunch. I put it on a toasted bagel. Thank you for this wonderful recipe.
Drain tuna and mix with onion, parsley, mayo and horseradish sauce.
Adjust mayo and horseradish to personal taste.
Spread on bread or in a pita, top with leafy greens and enjoy!