Tuna Salad (Betty Crocker?)
Annacia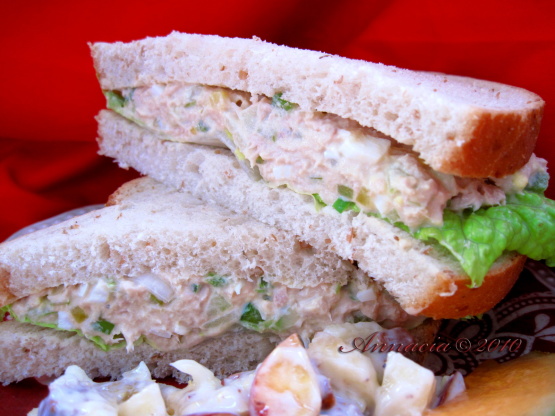 This is the tuna salad recipe I've had on a post-it note for ages.I think it came from a BC cookbook. I did a cursory search and couldn't find one with these ingredients. I make 4-6x the recipe as an appetizer, and we occasionally have leftovers for a sandwich or two the next day. I chop my veggies very finely so that it works as a salad and as a sandwich builder. Also, when I double (or more) the recipe, I use half tuna in water and half tuna in oil for more flavor.

Delicious. I love the addition of the lemon juice, it gives it a nice lift. I used just one egg, some green pepper and 2 dill pickle slices that I minced. It came out very yummy for our tastes. I'm sure that I'll be making this several times this summer.
Combine the first 5 ingredients.
Add eggs.
(a quick way to chop - use an egg slicer 3 times: after the first time, rotate the egg horizontally, like the hand of a clock, after the second, rotate around its axis, like turning a door knob).
Add enough mayo for a barely - moist salad (the veggies and tuna will give off liquid, so add a little less than you think you'll need).
Add relish/bell pepper.
Add salt to taste.
Refrigerate several hours for flavors to meld.