teresas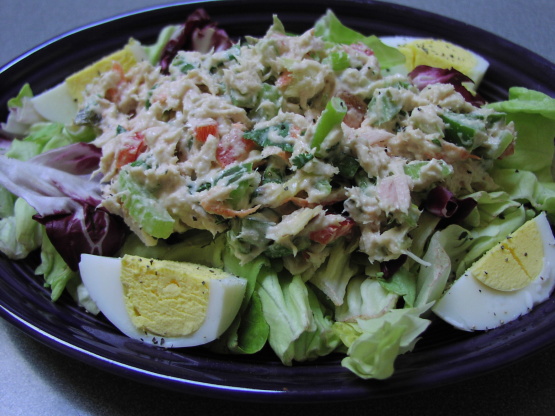 This is my own version of my family's recipe. I grew up watching Mom make this, and the old rule of thumb was two of everything. That's changed a little over time with the addition of many new ingredients. It truly is a family recipe since each person has contributed changes.
3

can tuna (used to be two, but I added so many veggies, the tuna property was getting lost!)

2

stalk celery

1

carrot, shredded

2-3

sweet gherkins, depending on size

3-5

pickled peppers, like pepperoncini or banana peppers
slivered almonds

59.14

ml cilantro

2-3

green onions

4.92-9.85

ml mustard, preferably spicy

14.79

ml mayonnaise, for flavor if you like mayo
plain yogurt, enough to get the creaminess you desire
salt and pepper
Dice all the veggies and the eggs.
Mix everything together in a bowl.
Make it cold.
Put it on a sandwich or eat with a fork.
Your choice.
It doesn't get much simpler than this.