Tuna ( Prickly Pear Cactus Fruit ) Jelly
KSStadt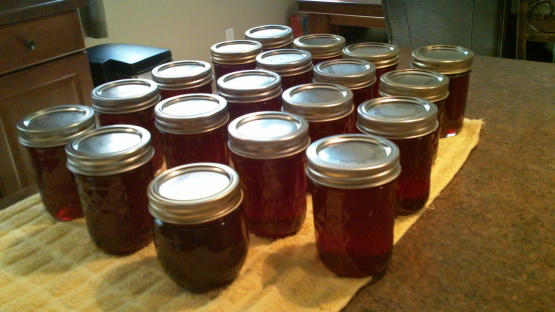 A gorgeously colored, flavorful jelly. This recipe does not double well. It also calls for liquid pectin, but powdered seems to jell a little better. While this recipe is written in a relatively old-fashioned way, it is perfectly safe if processed using modern methods. If you are unfamiliar with these techniques, please go to http://www.uga.edu/nchfp/how/can_home.html for the current information.

This is absolutely wonderful. My friend has a HUGE prickly pear cactus and we put this up every fall and I send it to all my relatives in the Chrismas goodie boxes. I get requests for it from them now. I've had some that didn't set up well but the kids use it as syrup on their pancakes. Also, you can warm in the microwave oven, add some thyme or rosemary(my favorite is thyme)and brush it on roast chicken the last 30 minutes and it is wonderful! Thanks so much for sharing.
3

lbs ripe prickly pears, enough to yield 3 and 1/4 cups juice from cooked fruit (cactus fruit or tunas)

1

(3 ounce) bottle liquid pectin

2

lemons, juice of

8

cups sugar
Pluck the fruit from the cactus with a long handled fork or tongs.
Put on rubber gloves to protect your hands: wash fruit under running water, then use a brush to clean (spines left on the fruit will soften during the cooking process and should come off after the fruit is strained).
Place in stockpot with about a cup of water.
Stir until boiling, cover pan and simmer until tender and soft.
Mash cooked fruit and strain using cheesecloth, a jelly bag or a fine sieve; set aside for juice to settle (for very clear jelly, do not use the portion containing sediment).
Measure sugar into a separate pan.
Bring juice and pectin just to boil, stirring constantly, and begin to add sugar slowly with constant stirring, taking about 5 minutes to add sugar, and keeping juice nearly at a boil.
Then bring to a rolling boil and boil for three minutes longer.
Remove from heat, let stand a few seconds, skim, pour quickly into jars and seal while hot.
Process for ten minutes in a boiling water bath.